Red Robin Gourmet Burgers and Brews started as one restaurant in Seattle back in the 1960s. Today the chain operates 500 restaurants, all slinging big burgers and bottomless fries. The menu is massive, featuring everything from fish tacos to chicken fajitas to something called The Big Pig Out.
To Red Robin's credit, there are plenty of nutritious offerings on the menu (and you can check out their full nutrition guide here). But some of the options only sound healthful. So read this guide before your next RR stop.

Avoid Every App But Two
The appetizers section of RR's menu is clogged with caloric clots. The diminutively named pretzel bites house 95 grams of carbs and 810 calories. Many of the wings have 20-plus grams of sugar, as does the "Fresh-Fried Mushrooms" (31 grams?!). Even if you split the Towering Onion rings, you cram in 655 calories before the main course. Safer bets: the Classic Wedge Salad (vegetables!) and the chips with salsa and guacamole (avocado's fiber will help fill you up).
Careful Around the Wraps
You might think Robin's wraps offer healthier alternatives to their namesake burgers, but beware. The Nacho Chicken Bacon Wrap has 1,160 calories and 82 grams of carbs, only five of which are fiber. The Whiskey River BBQ Chicken Wrap has 1,020 calories and 75 grams empty carbs, 12 of which are sugar. If you're looking to cut carbs, ask instead for a lettuce-wrapped sandwich or burger or, if that idea appalls you, the Tavern Bun has the fewest grams of carbohydrates at 27.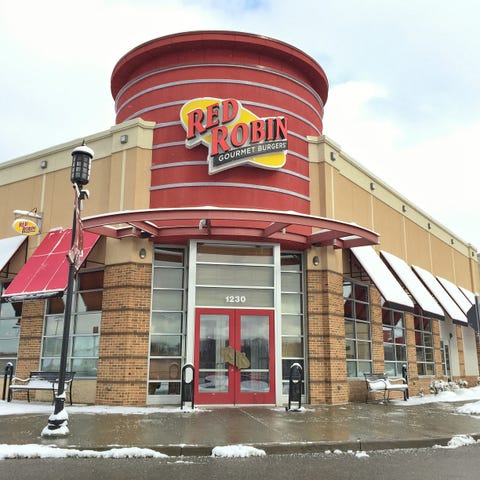 Getty ImagesLori Kemp
Diversify Your Table
Pick protein and greens. Feed your beef craving with a cup of Red's Chili Chili, which has 15 grams of protein for 220 calories. Then go with an Avo-Cobb-O Salad or a Simply Grilled Chicken Salad—both have more than the gut-filling amount of 30 grams of protein and six grams of fiber, for fewer than 700 calories and 10 grams of sugar. That's if you ask for the small portion of dressing instead of the large. Do that.
The Smoothies Are Rough
Don't let the fruit-filled names fool you. That Coconut Pineapple Smoothie has 79 grams of sugar. The Hawaiian Heart Throb Smoothie? A whopping 88 grams of sugar—that's 31 more grams of sugar than their Double Berry Cheesecake. If you need something to wash down your meal, stick with water.
Hall of Shame: Red Robin Chocolate Malt
It's the most caloric drink on their menu. Yes, the "monster" size offers 20 grams of protein, but at the expense of 1,100 calories and 156 sugar. That's the same amount of sugar in 3.8 12-ounce cans of Pepsi.
Source: Read Full Article