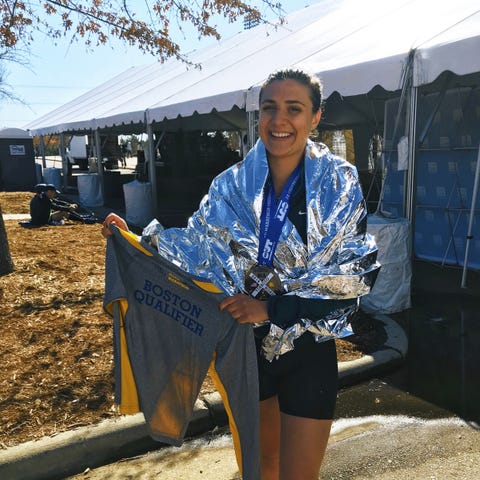 Two days after her 21st birthday on May 25, 2018, Anastasia Soule was lying in an emergency room in New Orleans, Louisiana. She didn't see it coming. And she definitely wasn't prepared for what came next.
Before things went south, the weekend was set to be the ultimate mother-daughter getaway. Soule, a senior studying economics and public policy at the University of North Carolina, had planned a vacation to New Orleans with her mom, opting for a few relaxed days exploring the Southern city instead of a rowdy trip with friends.
But from the moment their plane landed on Thursday, May 24, something felt off. Soule's hands and toes were tingling, as if pins and needles were poking them.
She didn't think much of it, though, she told Runner's World. As a competitive distance runner since high school and a recent marathon finisher—she even qualified for Boston with a 3:31 at the Tobacco Road Marathon in Cary, North Carolina this past March— she was accustomed to random aches and pains in her body.
"I figured I was just dehydrated or hadn't slept enough," said Soule.
On the next day, her birthday, she felt even worse. The prickling sensation in her extremities continued as she and her mom toured the city, and she began feeling achy and fatigued, as if she was coming down with the flu. Still, the runner mustered the energy to go out that night for celebratory cocktails, but she had to turn in after one drink, her head throbbing.
"I knew it wasn't the drink," she said. "I told my mom, 'I'm in college, I've had a drink before.' This was something different."
Stumbling, slurring, and going numb
Upon waking on Saturday morning, Soule's legs felt like lead. When she and her mom went out for lunch, her fork and knife kept slipping out of her unsteady fingers, which were going numb in spots. As the duo walked down sidewalks, Soule fell 10 yards behind her mom, unable to move any faster. "My mom kept turning around and saying, 'C'mon, Ana!'" she said.
By Sunday, the day they were supposed to fly back home to Asheville, North Carolina, Soule's speech was slurring. Convinced that something was seriously wrong, her mother let their family know that they'd be missing their flight, then practically dragged Soule—whose strong runner's legs kept stumbling—a few blocks down from their hotel to the Tulane Medical Center.
"I kept thinking to myself, 'I will run Boston.' I just needed to get out of here first."
After that, things got blurry. Soule remembers doctors poking and prodding her, taking spinal fluid samples to try to figure out why the young, active girl was suddenly exhibiting polio-like symptoms, like floppy limbs and delayed reflexes. Meanwhile, her muscles were rapidly becoming less responsive.
The results finally came in: Soule had Guillain-Barre syndrome, a rare disorder in which the body's immune system attacks the nerves and causes paralysis.
"I didn't know the full extent of it." she said. "I thought I'd only be in there for a couple days."
In reality, she was paralyzed for the next several weeks.
Her father, a former college runner at Iowa State University, joined her mother in keeping Soule company. While she couldn't move or speak, she stayed aware of her surroundings. Podcasts and music filled her long hours in the hospital bed.
When asked if she felt trapped in her own body during this time—especially as a runner—she said, shockingly, no.
"I was generally optimistic," she said. "I kept thinking to myself, 'I will run Boston.' I just needed to get out of here first."
In July, after about a month in New Orleans, she was airlifted to Atlanta's Shepard Center, which treats patients with spinal cord injuries and neuromuscular diseases. By this point, Soule had started gaining feeling back in her muscles, but they were extremely weak after not being used for so long. The doctors told her she would need several weeks of intense rehab before she walked again, and it was highly unlikely that she'd be able to return to Chapel Hill in the fall.
"That was a really hard day," Soule said. "The thought that I wouldn't be able to join my friends for our senior year was devastating. I was determined to walk."
Though her comeback would take time, the runner considered herself lucky in Shepard Center, since many of the other patients with spinal injuries would never have the opportunity to walk again. On July 4, Soule and the other patients were wheeled outside to cheer for the runners in Atlanta's Peachtree 10K race.
Watching the runners didn't bring her sadness. Instead, it motivated her.
Growing stronger, one step at a time
Two weeks later, she took her first steps, using a special machine that helped her legs move in the correct walking form. "My legs felt so unbalanced," she said. Her strides were slow and awkward, her hips and quads shaky. But she was moving. And that was all that mattered.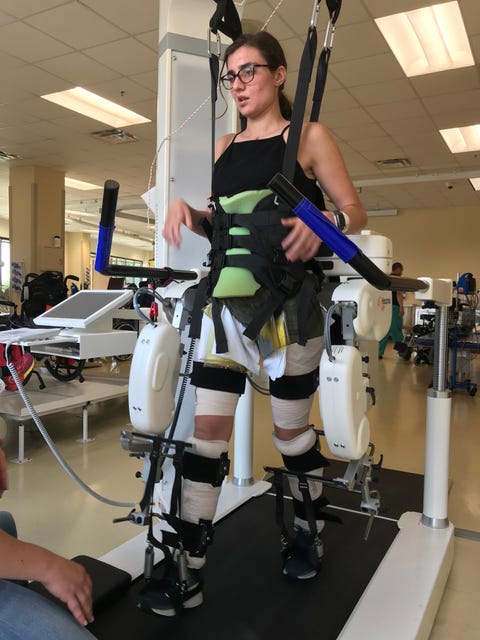 Soule walks assisted with a machine at the Shepard Center in Atlanta.

Anastasia Soule
"I really gained an appreciation for how our bodies move," said Soule, who worked with a physical therapist to build up strength in her core and legs again. "You don't ever think about how many muscles have to work together just for you to walk."
By August, she was able to move off of her wheelchair. Her doctors officially gave her clearance to go home, meaning she could start back at school just like everyone else. "I could only walk for 15 minutes at a time before taking a break," she said. "But I was so happy to be on campus."
Running, sure enough, would come back, too. In September, she ran her first mile since May. It was slow and clumsy, and her breathing was ragged. But it was the best mile she'd ever run, simply because she could do it.
[Smash your goals with a Runner's World Training Plan, designed for any speed and any distance.]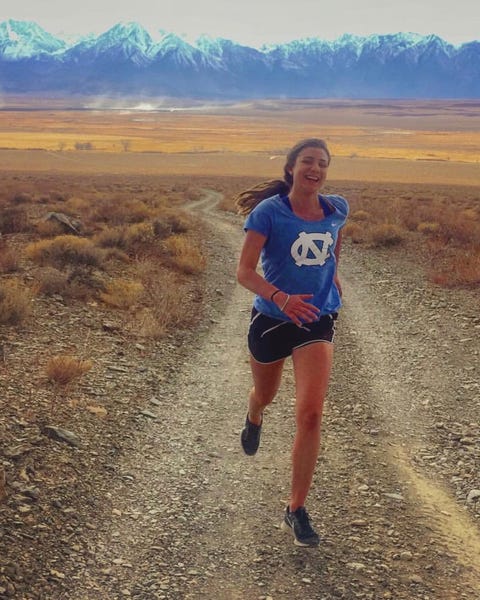 Since she began running in middle school, Anastasia Soule said she has never dreaded a run. Now, she appreciates the miles even more.

Anastasia Soule
"I don't have that frustration of bad runs anymore," said Soule, who has now worked up to running three miles at a time. "Each run is a blessing. I love feeling connected to the running community again."
Unfortunately, while her marathon time qualified her for Boston, it ended up just missing the cutoff. But that is actually probably for the best, Soule said. For now, she's content to just build up mileage and get back into her other favorite activities, like yoga, swimming, and cycling. While she is walking normally again now, her leg muscles still fatigue faster than they did before the illness, and she goes often to the gym to do core and leg strengthening exercises. In the future, once her legs have fully recovered, she wants to race more marathons. She hasn't forgotten her promise to herself in the hospital room: she will run Boston someday. It might just take a little time.
Next July, Soule is planning to return to Atlanta to run the Peachtree 10K. She'll be sure to wave to the staff and patients at Shepard as she passes by.
"After going through all that, I have a much greater appreciation of life," she said. "I have the most beautiful life."
From: Runner's World US
Source: Read Full Article