Before you watch the Hafþór Júlíus Björnsson, a.k.a. The Mountain, in the premiere of Game of Thrones on Sunday night, you might want to learn some more about the man behind those hulking muscles and imposing armor.
You can take a look at Björnsson's journey on Strongman: Beyond the Mountain, an E:60 short film running at 9 am EST on ESPN this Sunday. Shot in and around his home town of Rekyavik, Iceland—check out the behind the scenes photos throughout this story—the movie follows Björnsson's years-long quest to become The World's Strongest Man, which started after a brief stint as a pro basketball player.
Before he was "The Mountain" on #GameofThrones, @ThorBjornsson_ was an athlete with a mission: become the strongest man ever to walk the earth. pic.twitter.com/igeoSeWlzy
It's not hard to imagine the 6-foot-9, 440-pound Björnsson being a monster in the paint as he reflects on his time spent on Iceland's U18 team. "I was a bit crazy and trained a lot, probably three times a day," he told Men's Health UK in an interview earlier this year. "Before school, then afterwards, plus I was lifting at night." A spell as a pro baller in his homeland's first division was curtailed at 20 by surgery on his ankle. "I was very sad. I wasn't sure what the next step was," he said.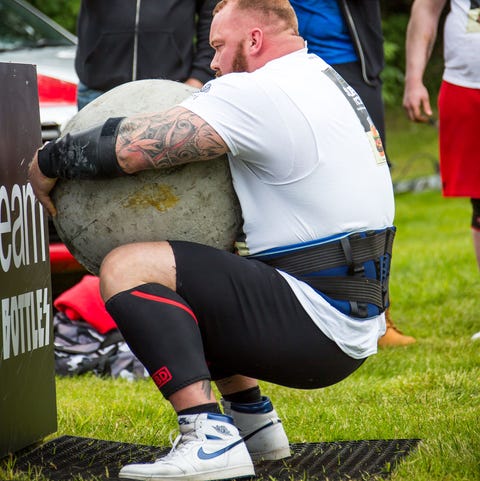 The Mountain lifts an Atlas ball in training

Shalom Khodabakhshian
That's when he started focusing even more on the strength aspect of his training. "I've always enjoyed lifting heavy; I saw extremely good results," he told MH. Björnsson ran less and ate more. "I just got hooked, seeing how strong I got and how much my body changed." Soon after, he started competing in strongman contests. He worked his way up to the World' Strongest Man contest, placing second three times and third three times before finally winning in 2018. He just won his fifth straight Europe's Strongest Man championship, and will defend the world title June in Bradenton, Florida. For a detailed round up of the top strongmen in the world, read this story.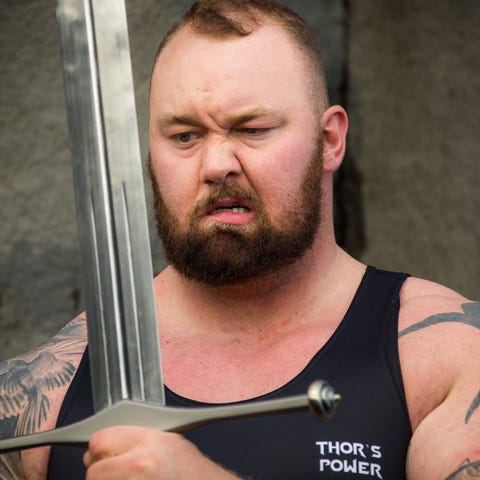 Hafþór Júlíus Björnsson on the set of Strongman: Beyond the Mountain

Shalom Khodabakhshian
In a series of interviews in the film, Björnsson opens up about his surprise audition for Game of Thrones and talks about the challenges of balancing his acting career, strongman training, and his duties as a dad.
"I got this email out of nowhere to audition for Games of Thrones," he says in the trailer. "I thought this can't be true. It must be bullshi*t. I didn't even answer." Later, he got a call to do the audition and said, "Sure, I don't know what I'm doing, but let's try it." At the audition, they wanted to test his strength. "They asked me to pick a guy up, so I lifted him over my head and they were like, 'Whoa! You're strong!"
If you need any more incentive to check out the doc before tuning in to the Season 8 premiere, Strongman: Beyond The Mountain is narrated by Anton Lesser, who plays Qyburn on Game of Thrones.
Source: Read Full Article