That a bustling medical conference can have global reach as it unfolds is one of the COVID pandemic's many lessons for science. Hybrid meetings such as the American Heart Association (AHA) Scientific Sessions 2022, getting underway November 5 in Chicago and cyberspace, are one of its legacies.
The conference is set to recapture the magic of the in-person Scientific Sessions last experienced in Philadelphia in 2019. But planners are mindful of a special responsibility to younger clinicians and scientists who entered the field knowing only the virtual format, and who may not know "what it's like in a room when major science is presented, or to present posters and have people come by for conversations," Manesh R. Patel, MD, chair of the AHA 2022 Scientific Sessions program committee, told theheart.org | Medscape Cardiology.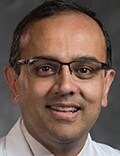 Dr Manesh R. Patel
Still, the pandemic has underlined the value of live streaming for the great many who can't attend in person, Patel said. At AHA 2022, virtual access doesn't mean only late breaking and featured presentations; more than 70 full sessions will be streamed from Friday through Monday.
Overall, the conference has more than 800 sessions on the schedule, about a third are panels or invited lectures and two thirds are original reports on the latest research. At the core of the research offerings, 78 studies and analyses are slated across 18 Late-Breaking Science (LBS) and Featured Science (FS) sessions from Saturday through Monday. At least 30 presentations and abstracts will enter the peer-reviewed literature right away with their simultaneous online publication, Patel said.
More a meet-and-greet than a presentation, the Puppy Snuggles Booth will make a return appearance in Chicago after earning rave reviews at the 2019 Sessions in Philadelphia. All are invited to take a breather from their schedules to pet, cuddle, and play with a passel of pups, all in need of homes and available for adoption. The experience's favorable effect on blood pressure is almost guaranteed.
LBS and FS Highlights
"It's an amazing year for Late Breaking Science and Featured Science at the Scientific Sessions," Patel said of the presentations selected for special attention after a rigorous review process. "We have science that is as broad and as deep as we've seen in years."
Saturday's two LBS sessions kick off the series with studies looking at agents long available in heart failure and hypertension but lacking solid supporting evidence, "pretty large randomized trials that are, we think, going to affect clinical practice as soon as they are presented," Patel said.
They include TRANSFORM-HF, a comparison of the loop diuretics furosemide and torsemide in patients hospitalized with heart failure. And the Diuretic Comparison Project (DCP), with more than 13,000 patients with hypertension assigned to the diuretics chlorthalidone or hydrochlorothiazide, , "is going to immediately impact how people think about blood pressure management," Patel said.
Other highlights in the hypertension arena include the CRHCP trial, the MB-BP study, the Rich Life Project, and the polypill efficacy and safety trial QUARTET-USA, all in Sunday's LBS-4; and the FRESH, PRECISION, and BrigHTN trials, all in LBS-9 on Monday.
Other heart failure trials joining TRANSFORM-HF in the line-up include IRONMAN, which revisited IV iron therapy in iron-deficient patients, in LBS-2 on Saturday; and, in FS-4 on Monday, BETA3LVH and STRONG-HF, the latter a timely randomized test of pre- and post-discharge biomarker-driven uptitration of guideline-directed heart failure meds.
STRONG-HF was halted early, the trial's nonprofit sponsor announced only weeks ago, after patients following the intensive uptitration strategy vs usual care showed a reduced risk of death or heart failure readmission; few other details were given.
Several sessions will be devoted to a rare breed of randomized trial, one that tests the efficacy of traditional herbal meds or nonprescription supplements against proven medications. "These are going to get a lot of people's interest, one can imagine, because they are on common questions that patients bring to the clinic every day," Patel said.
Such studies include CTS-AMI, which explored the traditional Chinese herbal medicine tongxinluo in ST-segment elevation myocardial infarction, in LBS-3 on Sunday; and SPORT in Sunday's LBS-5, a small randomized comparison of low-dose rosuvastatin, cinnamon, garlic, turmeric, an omega-3 fish-oil supplement, a plant sterol, red yeast rice, and placebo for any effects on LDL-C levels.
Other novel approaches to dyslipidemia management are to be covered in RESPECT-EPA and OCEAN(a)-DOSE, both in LBS-5 on Sunday; and all five presentations in Monday's FS-9, including ARCHES-2, SHASTA-2, FOURIER-OLE, and ORION-3.
The interplay of antiplatelets and coronary interventions will be explored in presentations called OPTION, in LBS-6 on Sunday; and HOST-EXAM and TWILIGHT, in FS-6 on Monday.
Coronary and peripheral-vascular interventions are center stage in reports on RAPCO in LBS-3 and BRIGHT-4 in LBS-6, both on Sunday; and BEST-CLI in LBS-7 and the After-80 Study in FS-6, both on Monday.
Several Monday reports will cover comorbidities and complications associated with COVID-19, including PREVENT-HD in LBS-7; and PANAMO, FERMIN, COVID-NET, and a secondary analysis of the DELIVER trial in FS-5.
Rebroadcasts for the Pacific Rim
The sessions will also feature several evening rebroadcasts of earlier LBS sessions that meeting planners scored highly for scientific merit and potential clinical impact, but also for their "regional pull," primarily for our colleagues in Asia, Patel said.
The first two LBS sessions presented live during the day in Chicago will be rebroadcast that evening as, for example, Sunday morning and afternoon fare in Tokyo and Singapore. And LBS-5 live Sunday afternoon will rebroadcast that night as a Monday mid-morning session in, say, Hong Kong or Seoul.
This year's AHA meeting spans the range of cardiovascular care, from precision therapies, such as gene editing or specific drugs, to broad strategies that consider, for example, social determinants of health, Patel said. "I think people, when they leave the Scientific Sessions, will feel very engaged in the larger conversation about how you impact very common conditions globally."
Follow Steve Stiles on Twitter: @SteveStiles2. For more from theheart.org | Medscape Cardiology, follow us on Twitter and Facebook.
Source: Read Full Article