When it comes to July 4th weekend, we guarantee you'll see a nonstop stream of food. Lots and lots of food. What better way to celebrate summer than with a cookout? It's the embodiment of what makes the season so great—sun, friends, food, and a cold beer (or three).
We'll be honest: Barbecues aren't exactly great for your waistline. You might indulge a little more than you normally would, and that's okay. That's typically what a holiday is all about. As long as you're filling your plate with protein and some vegetables (we have you covered with plenty of options listed down below), you don't have to feel entirely guilty about splurging on some dessert at the end of the night.
That's where the grill comes in: there's nothing better than a juicy hamburger seared to perfection. Or a hot dog with the right amount of smoky char. Sparks will fly right off your taste buds after you taste these simple-to-make barbecue staples. Here, 12 recipes that are easy, delicious, and the best thing you can serve up when the day is long, the night is warm, and the weekend feels endless.
1. GRILLED STEAK KEBABS
Who doesn't love meat on a stick? These kebabs with sweet potato fries are the prefect mix of savory and sweet. It's a protein-packed meal that's super easy to make, too—just throw your ingredients into one pan and grill 'em up. If you want to kick the flavor up a notch with a smoky char, invest in a heavier-duty cast iron grill pan (like this one) to sear your meats and vegetables at a higher temperature. Watch the video above to see how to make it.
​
2. THE BEST HAMBURGER YOU WILL EVER EAT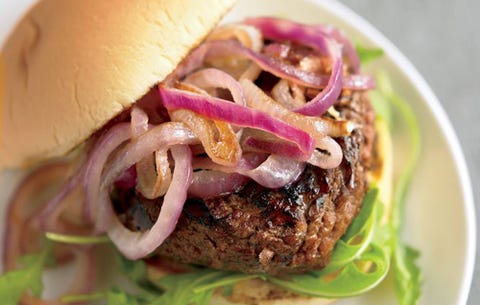 Paul Kita
C'mon, you knew you'd find a damn good hamburger on this list. To pull off juicy, tender burgers, you'll need 80 percent lean meat, some salt, a grill cranked to high heat, and the right toppings. To take it a step further, butter the buns and toast them until their golden—trust us, it makes all the difference. (Find the full recipe here.)
3. CHEESY CORN-ON-THE-COB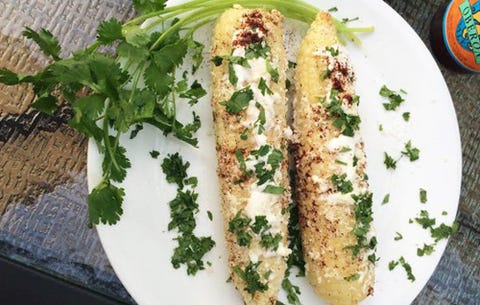 Paul Kita
You won't even mind those pesky kernels lodged in your teeth after you taste this corn-on-the-cob. We get it, you can't really go wrong with the classic butter and salt combo—but you might change your mind when you coat your cob with something new. This winning recipe utilizes cotija, a salty, crumbly cheese guaranteed to make your mouth water. Make them easier to enjoy with these corn-on-the-cob holders. (Find the full recipe here.)
4. KUNG PAO CHICKEN WINGS
We get it, your local bar has the best chicken wings, but you can make your own at home without sacrificing flavor. This recipe's secret sauce, built on Sichuan peppercorns, is unlike anything you've tasted yet. Good news is, you don't need a deep fryer to make these bad boys. Throw them in the oven, and your body will thank you for it later. (Find the full recipe here.)
​
5. THE ULTIMATE PICO DE GALLO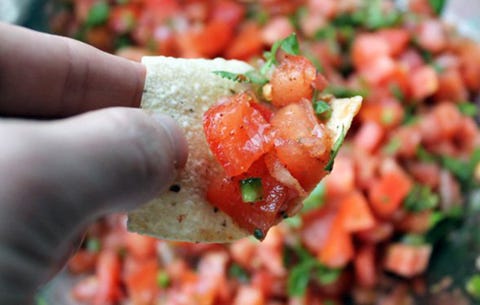 Paul Kita
Don't be tempted by that sad jar of premade salsa at the grocery store. It's convenient, sure, but spending the extra 10 minutes on this pico de gallo will be worth every bite. Plus, all you need is one large tomato and a whole lot of seasoning—a blast of flavor, if you will. You can always adjust the amount of seasoning to your personal preference, so you get the perfect mix of sweet and smoky. (Find the full recipe here.)
6. CHICAGO HOT DOG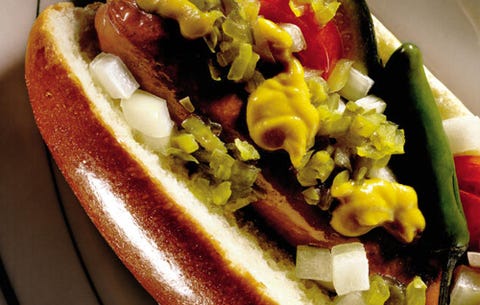 Men's Health
Nothing screams America like a grilled hot dog smothered in mustard and relish. While most Chicago dogs are steamed or boiled, we recommend grilling this one up for the fourth. Give it a little extra love, so it's left with perfect grill marks and a smoky char. While this recipe calls fort the ultimate combination of toppings—you can always make it easier on yourself and just load up your frank with the ingredients you have on hand. (Find the full recipe here.)
7. JIM BEAM BAKED BEANS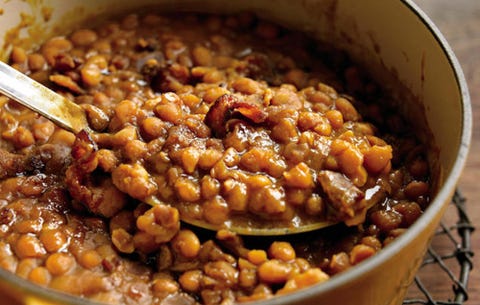 Getty Images
The perfect cookout combines three of your favorite things: bourbon, bacon, and beans. Sip the whiskey if you want—or add it to your baked beans as your secret ingredient to this classic side dish. The molasses will give the beans a hint of sweetness, while the dry mustard, bacon, and salt serve up the savory comfort only a side of beans can bring to a barbecue. (Find the full recipe here.)
8. FISH TACOS WITH A TWIST
These fish tacos are packed with your favorite summer flavors. Instead of tilapia, go for mahi mahi for a heartier taco. Skip the deep fryer, and you'll save yourself some empty calories. Besides, good fish doesn't need breading. A little salt, pepper, and chili powder will do. This recipe also calls for two homemade toppings: chipotle sour cream and corn and cherry tomato salsa. You'll wonder why you ever filled your tortilla with anything but this. Watch the video above for the full recipe.
​
9. ROASTED PEPPERCORN PASTA SALAD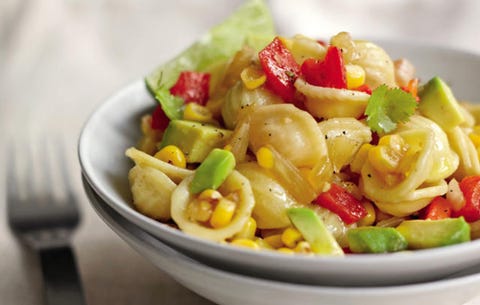 Men's Health
This isn't anything like the pasta salad you pretended to like at every barbecue you've ever been forced to eat it at. Pasta salad is tricky—if you don't get the right mix of flavors, it starts to taste more like a dish your forgot about in the fridge rather than something you put thought into. Not this pasta salad, since it's packed with fresh ingredients like avocado, lime juice, and cilantro. It serves up a healthy dose of vegetables, so you'll add some color to your plate. (Find the full recipe here.)
10. CLASSIC MARGARITA
No summer weekend is complete without a round of cocktails. Go for something refreshing and citrus-y, like this classic margarita. It'll compliment just about everything you throw on the grill. Pro tip: Serve your drinks in mason jars (like these) instead of a traditional margarita glass. You can easily mix your drink in the jars, and the final presentation will look like you tried way harder than you did. Watch the video above for the full recipe.
​
11. CHEDDAR BACON POTATO WEDGES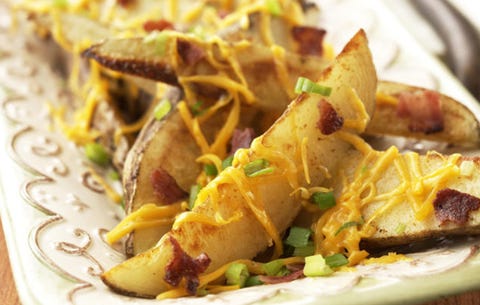 Men's Health
Potatoes? Yes. Potatoes covered in cheese and bacon? Hell yes. These thick cut loaded potato wedges are the best addition to any piece of grilled meat and taste just as good as your favorite restaurant style wedges. The best part? They're less than 200 calories per serving. Give them just 20 minutes in the oven and you'll have crispy, yet gooey, perfection. (Find the full recipe here.)
12. ANGRY SHRIMP COCKTAIL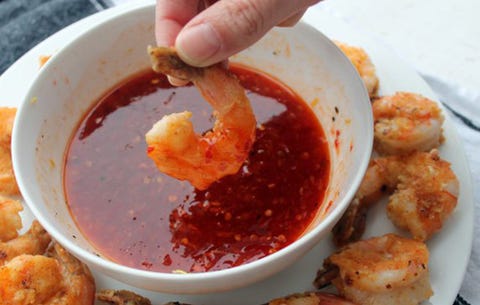 Paul Kita
Spending your weekend by the water? This appetizer is calling your name. Forget the watery store-bought shrimp cocktail ring that you're used to. In fact, your taste buds won't know what hit 'em after you serve up this garlicky angry shrimp cocktail. Instead of steaming the shrimp, you'll sear it until its crispy. The dip is just the right combination of spicy and sweet, with a hint of lemon. (Find the full recipe here.)
13. FRESH SUMMER SALAD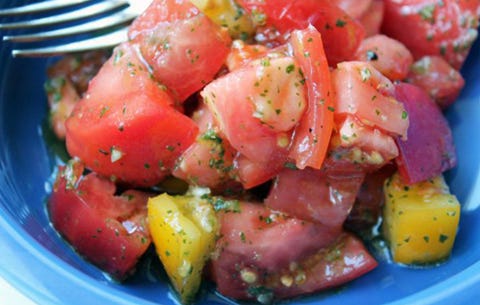 Paul Kita
A pile of meat and potatoes is great—but if you're looking for some lighter fare, opt for a side of this bright summer salad. With its base of tomatoes, this salad packs a flavorful punch—no droopy iceberg lettuce necessary. You'll use extra virgin olive oil for some healthy fat, lemon juice and vinegar for tang, and basil for freshness and color. This salad pairs great with fish, but we'd argue that it tastes great with just about anything you're going to eat outdoors. (Find the full recipe here.)
14. INSTANT POT PULLED PORK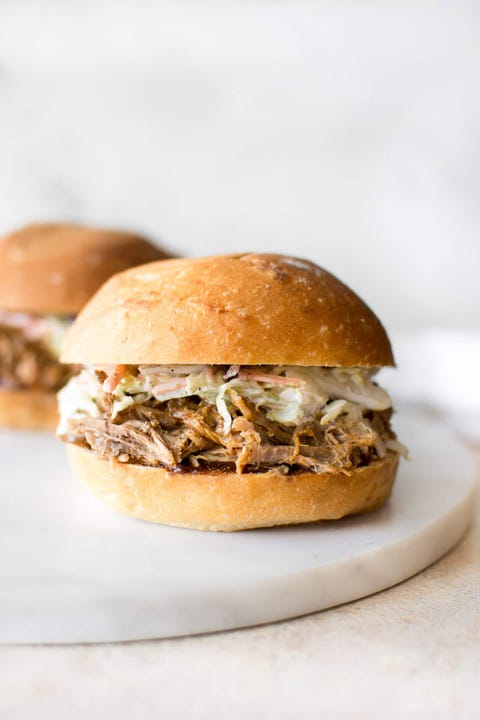 Salt & Lavender
Who doesn't want to take a big bite into a juicy, tender pulled pork sandwich to go with a few beers at an outdoor barbecue? This easy recipe from Salt & Lavender is delicious with a BBQ sauce, and essential sides like cornbread, corn on the cob, and potato salad all complement the flavors.
15. CHEDDAR STUFFED SWEET POTATO BBQ TURKEY MEATLOAF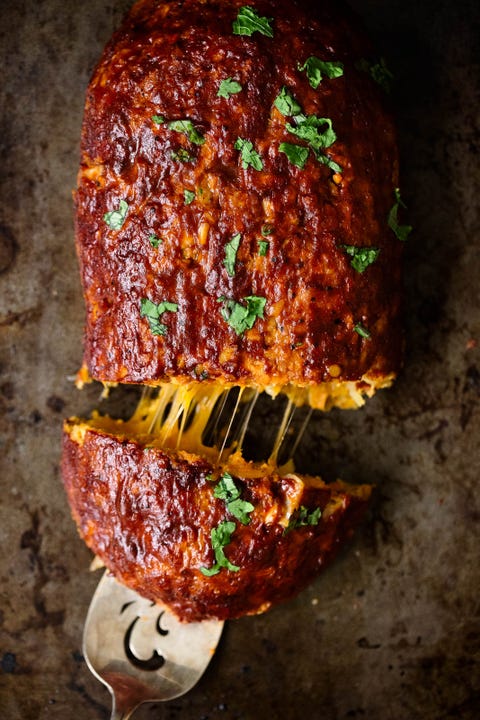 Ambitious Kitchen
This cheesy, hearty meatloaf recipe from Ambitious Kitchen tastes like real comfort food, but it's actually a fairly healthy dish to serve over July 4th weekend or at a barbecue this summer. It's ready in about an hour.
16. BARBECUE CAULIFLOWER TACOS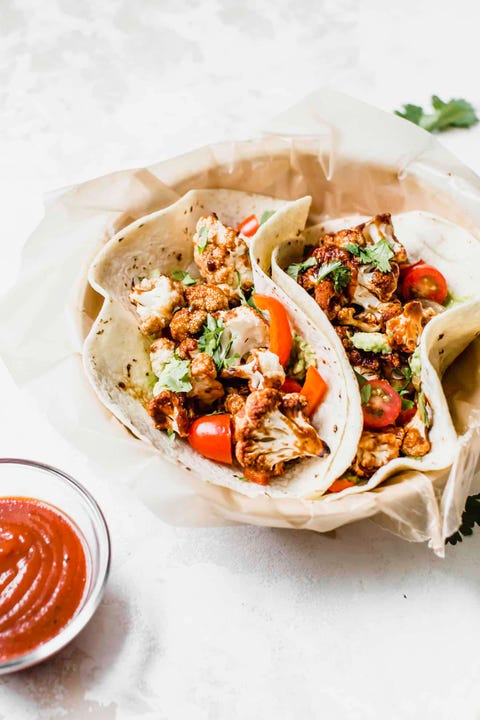 The Toasted Pine Nut
It can be tough to be a veggie-eater at a summer barbecue, as there's bound to be burgers, hot dogs, and ribs everywhere. The solution? These cauliflower tacos from The Toasted Pine Nut, which still give you that fun "party" food feel and tons of flavor, thanks to BBQ sauce, avocado, and herbs.
17. COCONUT AND LIME CHICKEN SKEWERS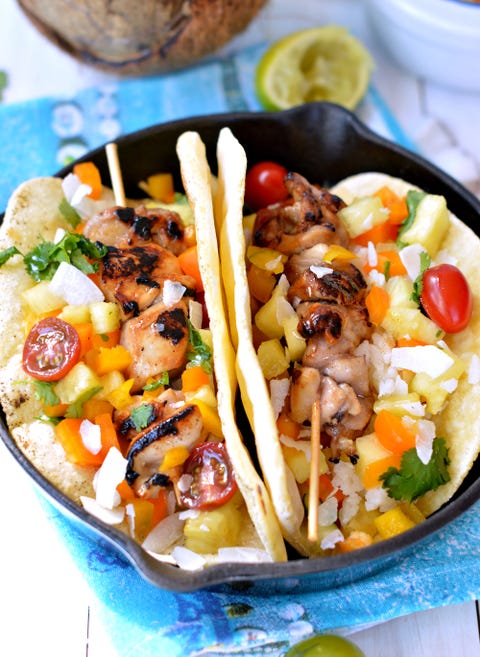 Sweet as Honey
Anything on a skewer is a crowd pleaser at a summer barbecue. And these chicken, coconut, and lime bites from Sweet as Honey do not disappoint. You can eat them as in on a skewer, or you can toss them into a tortilla with a bed of coconut rice for a bit more substance. Add spices and salsa for fun toppings and a flavor boost.
18. FRIED MASHED POTATO BALLS WITH BBQ CHILI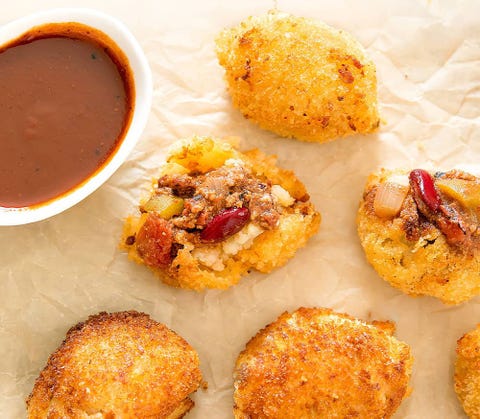 Kirbie's Cravings
Let the drooling begin—these fried potato balls with chili stuffing from Kirbie's Cravings are perfect for your next summer gathering or game night with the guys. They have lots of spice from cumin, cayenne, and chili powder, and you can either use your favorite BBQ sauce or whip up your own.
19. CILANTRO LIME POTATO SALAD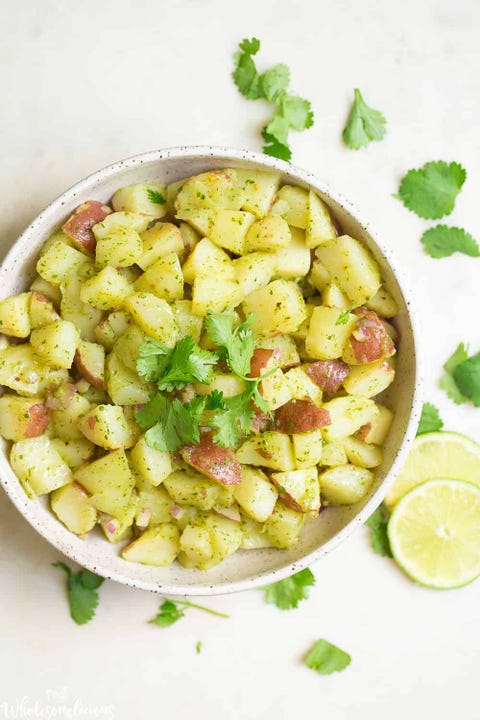 Wholesomelicious
There's no better side to go with your charred dog or juicy burger than potato salad, and this slimmed-down version of the classic from Wholesomelicious is packed with nutrition and flavor. There's a nice zest from the lime and cilantro to make it feel light and refreshing, and it can even become Whole30-approved by omitting the coconut sugar.
20. SOUTHWEST AVOCADO QUINOA CORN SALAD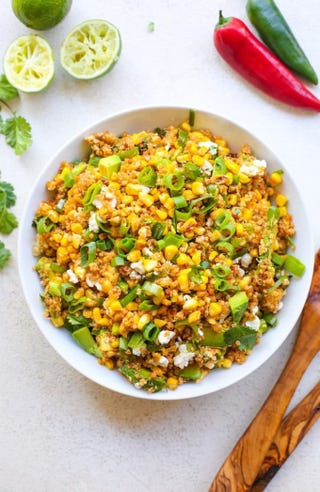 A Saucy Kitchen
Don't want to deal with corn on the cob getting stuck in your teeth? Make the most of corn season by indulging in this savory quinoa salad. With this great recipe by A Saucy Kitchen, it's easy to make a big batch at once and bring it to your next potluck or outdoor barbecue.
21. GRILLED RED, WHITE, AND BLUE SKEWERS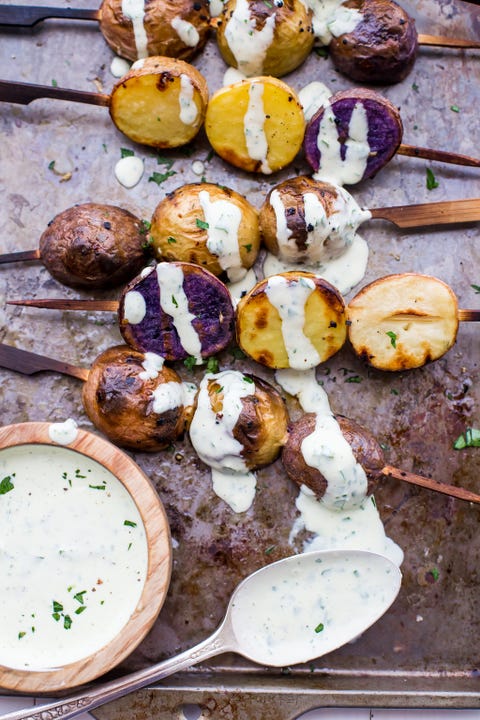 40 aprons
The perfect patriotic side dish, these potatoes with ranch dressing from 40 aprons are full of fiber to keep you satiated and are easy to pop right into your mouth. What's more, they're Whole30-approved, so even guests who are on a restrictive diet can partake in the fun. Pair with burgers or brats and you're set.
22. GRILLED FRUIT SALAD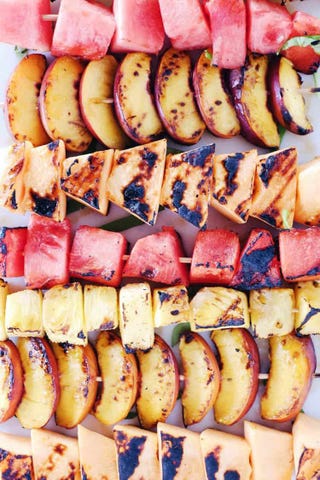 Real Simple Good
You probably have a surplus of grilled veggies and meats at your potluck, but don't forget dessert! Grilled fruit kebobs are great for giving you that sweet end to the meal, but they don't weight you down as much as, say, a pie or ice cream sundae. These fruity kebobs from Real Simple Good are easy and super delicious. Have fun with melon, pineapple, and stone fruit for variety.
Source: Read Full Article